Let Fun Experts Take Your Custom Water Slide to the Next Level with These 7 Tips
Making your custom water slide even more fun has never been easier.
The experts at Paradise Slides custom water slides can transform any backyard into an oasis of fun, but you can always bump things up to a higher level. When you want to keep your friends and family excited and entertained, we've got you covered. Here are some of our favorite hacks for making an awesome slide experience even better.
Pair Your Residential Water Slide With a Waterfall
A lot of the coolest backyards with pools also have one other thing – a waterfall. Paradise slides are elegant and chic, which helps them to complement gorgeous stone backdrops and majestic water features. The sound of rushing water offers tremendous sensory input and heightens the excitement as a rider races down your slide and plunges into the refreshing pool below. We've even seen homeowners construct coves beneath their waterfalls, creating a secret place to hide away after sliding. It's incredible how much a luxurious water feature can add to the excitement and leave everyone returning for more.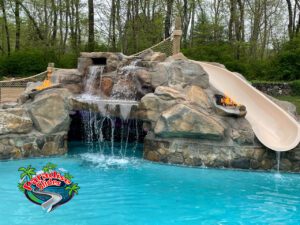 Add a Basketball Hoop
Swimming pool basketball hoops are an inexpensive and effective way to make both your pool and your waterslide more fun. Make a game of things! Stand in the pool, a safe distance from the custom water slide. As a rider comes down the custom water slide, toss the ball to the rider. See if they can catch and toss it through the hoop before hitting the water. Another spin on this is to have the rider go down the custom water slide with the ball already in hand. Of course, safety is of the utmost importance when playing, but when everyone is careful, this game is a blast.
Make a TikTok About Your Residential Water Slide
Everyone wants to be a star! Get creative and make a unique TikTok that showcases your fiberglass waterslide. There's no limit to what can be done, and you can always draw some inspiration from the latest TikTok trends. You can have a lot of fun coming up with skits, having competitions, wearing costumes, or even just showing off your luxurious space. Editing can also be enjoyable. Reverse the video for hilarious shots of your friends going "up" the custom water slide, or have your pool "invaded" by a monster. The sky is the limit.
Upgrade Your Lighting
Being in the swimming pool and going down your Paradise slide custom pool slide is even cooler when you've got a killer lighting setup. Multi-color lights under the water will turn the swimming area into a magical lagoon. Each time a rider drops off the custom water slide and into the water, their silhouette will glimmer in the colorful light like a mermaid. You can also consider installing a fire pit near your swimming pool. The flickering light from the crackling flames creates an impressive ambiance that adds even more fun and excitement to sliding. Friends and family can sit around the fire to relax after swimming while watching riders continue to have a great time.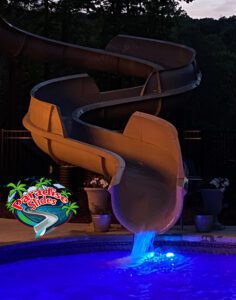 …And Your Sound System
Nothing gets a party going like great music! Adding a high-quality sound system to your swimming pool area will make rocketing down the custom pool slide even more fun. The right music can pump riders up and get their hearts going as they take turns trying to beat their record for speed.
Go Faster
Speaking of speed, we've got lots of ideas to help you go down your slide faster, so you and your guests have the best time possible. Try to reduce friction by wearing minimal swim gear, and work to reduce friction by minimizing how much of your body actually comes into contact with the slide.
Stay Safe on Your Backyard Water Slide
The topic of safety may not always seem like much "fun," but you can't have a good time if people aren't safe. Make sure the pool and slide are always supervised and that people know the rules. Never let riders jump from the water slide, avoid roughhousing, avoid hanging out at the bottom of the water slide, and always ride down facing forward.
Ready to have the time of your life with a custom swimming pool slide? We've got lots of options and great ideas. Discuss the right slide for your home with one of our Paradise Slides Fun Experts Today!