Preparing for In-Ground Swimming Pool Construction
5 Important Considerations for Preparing for In-Ground Swimming Pool Construction
Get Ready for Your Personal Backyard Oasis
Are you early in the planning stages for your in-ground swimming pool construction? You're looking forward to the day when you no longer have to visit the crowded public pool to take a refreshing dip in the water. That's so exciting! An in-ground pool can add serious value to your home, so treat yourself!
Don't get ahead of yourself, however. There are a few things that you have to keep in mind before you even start construction. We're here to talk about them!
Read on for 5 important considerations for your new in-ground swimming pool.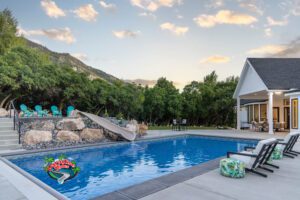 1. Know Your Budget
It's no secret that in-ground swimming pools can be pricey (but they're totally worth the cost). Make sure you set a realistic budget for everything you want.
You'll need to hire contractors for the pool itself as well as any other fun features you want to include (such as custom slides, hot tubs, and so on). It can be helpful to ask for general quotes from local contractors to get an idea of what you need to spend.
It's always better to overestimate than underestimate how much you'll be spending.
2. Time It Correctly
Do you know how long the average pool takes to build?
It depends on the pool and what you want surrounding it, but the bare minimum is two weeks for the installation process. It can be much longer (even several months) if you're also constructing a patio around the pool and if you need any special permits for your area.
Because of this, you want to get the ball rolling long before summer so you're ready to enjoy your pool once the weather warms up. Don't start planning in June and expect to be throwing a pool party for the 4th of July!
3. Plan for Fun Features (Like Water Slides!)
Too many people will decide they want fun pool features after the pool is already in place. When you plan ahead, you can save yourself a lot of trouble! Things like diving boards, in-pool bars, waterfalls, and pool slides will improve your pool experience, so plan on having them.
You can always add things later, but planning ahead will make your life easier. For example, it's far easier to have contractors pre-plumb for a pool slide or waterfall when they're already working on the pool.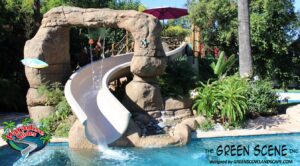 4. Pick the Perfect Placement
Where is your awesome new pool going to go?
Spend a good amount of time assessing your space to find the perfect spot for your new pool. Consider what will be surrounding it, the placement of trees and other foliage nearby, and where you could place your backyard slides.
There may be other limiting factors below-ground, so have a few different options in mind just in case something goes wrong during the in-ground pool construction process.
5. Make Sure the Size Is Right
How large is your pool going to be?
If you're opting for an in-ground pool anyway, bigger is generally better. You want enough space to enjoy yourself. If you wanted a small pool, you would have just bought an above-ground pool from the store.
People who want to swim laps should consider longer pools. People with small children may want large pools that don't have deep sections. The size of your pool will be limited by the size of your space, but there are other limiting factors as well.
Get Ready for Your In-Ground Swimming Pool
Are you ready to have a pool of your very own? Planning for the in-ground swimming pool can be stressful, but if you keep these considerations in mind, you'll end up with a pool that you love splashing around in no time.
While you're at it, why not treat yourself to a custom Paradise Slides Pool Slide? We create amazing Pool Slides that our clients love. Contact us to learn more about our custom swimming pool slides today!