4 Amazing Residential Water Slide Pool Stairs
Unique Staircase Ideas for Your Residential Water Slide
Once you are ready to get a super cool Residential Water Slide for your backyard, you are probably wondering what type of staircase you should get. A staircase is a necessary and functional part of making your waterslide work. But it is also a considerable part of the aesthetic of your backyard. Selecting the perfect staircase can really top off the look of your beautiful fiberglass water slide and make the backyard look complete. If you need some inspiration for stunning and interesting staircase ideas for your water slide, check out some of the work our customers have done.
Build a Cave Staircase For Your Residential Water Slide
A cave-themed staircase can be exactly what you need for your residential water slide. The cave-like shape can keep you shady while you run up to the top of the pool. This can make the floor not as hot for when you hop out of the pool and need to run to the top of the stairs. The cave staircase has great style and functionality.  Because the cave staircase can take up a significant amount of space, it is best to have a large backyard for this staircase. To make a beautiful staircase like this one, you may need to find a grotto specialist. The clients who purchased this pool slide hired Greg Kovach, a grotto work contractor from Oregon, to create the cave staircase.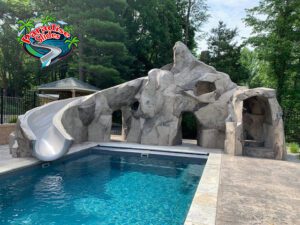 Create the Ultimate Staircase For Your Modern Fiberglass Water Slide
While many slides tend to have a contemporary or rustic vibe, you can also get a beautiful modern waterslide with a modernized staircase to fit the style of your house. A fiberglass water slide can be paired with an equally nice staircase such as this black one. The minimalistic railing for a custom home pool slide can have thinner steps and a unique style. This makes the entire slide appear futuristic, making it better for modern homes. With a sleek, metallic staircase, you can also keep it cleaner by spraying down the staircase with some water.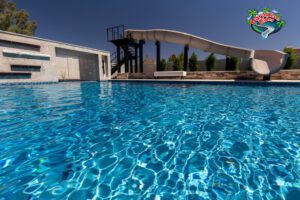 Add A Beachy Themed Staircase To Your Inground Swimming Pool Slide
Surfs up with this beautiful beach-themed staircase. The tall slide is paired with a modern, circular staircase, which wraps around itself until it is at a high-enough height. This stunning staircase has blue-tinted, clear walls, which keeps the residential slide safe. Since the stairs are more vertical, it is an excellent swimming pool slide for backyards working with limited space. The owner of this inground swimming pool slide also added a cute surfboard to liven up the backyard. This decorative surfboard actually contributes to the beachy feel of this house.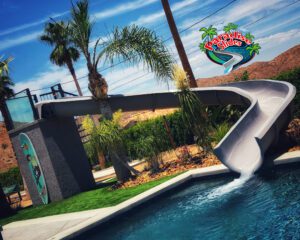 Build A Gradual Stone Path Staircase For Your Adult Swimming Pool Slide
An easy way to ensure the residential water slide and the staircase look the best with your house is to see and integrate them within your backyard. For instance, if you have plenty of rocks surrounding the slide, you should extend it to include the walking path. With the slide and the staircase tied together through large aesthetic boulders, you can see your backyard come together stylistically. While in this example, boulders were used, you can also have plants, trees, and other elements already in your backyard. These familiar stylistic pieces of your garden can be strategically placed to make your backyard come together.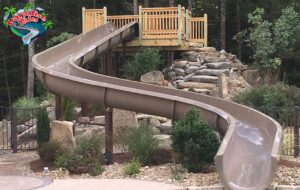 Questions About Designing a Staircase for an Inground Swimming Pool?
If you have any remaining questions about staircase ideas for your swimming pool water slide, feel free to give us a call at (706)865-4849. You can also get more inspiration from some of our other work at Paradise Slides, Facebook, Twitter, Instagram, and even Pinterest. You can see some of our most iconic inground swimming pool slides and their respective staircases by following us on our social media pages. If you want to see some residential water slides in Action, check out our YouTube Channel.