5 Great Tips for Enhancing Your Custom Water Slide with Pool Lights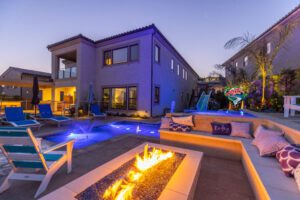 After installing your Paradise slide water slide, your swimming pool is the coolest in town. Now you're ready to take things to the next level. One super simple but awesome way to get more enjoyment from your in-ground pool and slide is to install lighting.
Why Install Pool Lights?
Homeowners choose to install pool lights for a number of reasons. For one thing, smart lighting choices can make your backyard water slide and pool look even more stunning than they already do. On top of this, lights make your space more functional. You'll be able to safely navigate your way around the pool area and keep flying down your pool slide even after the sun has gone down. This makes your pool the perfect place for parties. Here are five smart tips for choosing, installing, and using your new pool lights.
Choose Your Favorite Lighting Type
The first step to making your pool slide and swimming pool stand out is to choose the type of lighting that best suits your needs. Although incandescent lights were common in the past, these types of bulbs are being phased out of usage, so it's better to choose from one of the following options:
Halogen Lights – These pool lighting fixtures are known for being long-lasting and durable and for emitting a very bright light. It should be noted that these lights tend to be "cooler" rather than offering a warm glow.
LED Lights:Light Emitting Diodes (LEDs) are incredibly popular as they provide rich, bright, vibrant lighting that travels further through the water. They're incredibly energy efficient, and many LED lighting systems can change color to create more of a fun "party" vibe.
Water Slide Lights:In addition to being a great pick for your pool, there are a number of LED lighting options available for along pool slides to make the ride down more thrilling!
Calculate How Many Lights You Need
Whether you're installing pool lights for the first time or are upgrading an existing lighting system, it's important to spend some time determining how much lighting is appropriate for your swimming area. Too much lighting can overwhelm the space, whereas too few lights could reduce safety and make it look dull. Generally, you will need a minimum of one light for a 15 x 30-foot pool. Pools up to 40 feet will require at least two lights, and anything larger than that will require a third.
DIY vs. Hire an Electrician
Next, you must decide how to install your pool lights. Homeowners who like projects and feel confident in their abilities may feel comfortable following manufacturer instructions for installing lights and the potential need to establish a pool-specific power supply. Because you're working with electrical wiring around water, however, it's often wise to find a local swimming pool electrician. Professionals will be able to set everything up safely so that you can dive right in and start enjoying your new lighting without having to worry about a thing.
Emphasize Your Backyard Water Slide
When figuring out where to situate your pool lights, be sure to keep your custom water slide in mind. Arranging your new pool lights in a way that will highlight your slide will make a huge difference. You want to be able to see your family and friends plunging into the water after a fast ride, and the right lighting setup will emphasize the silhouette of each rider.
Know the Law
The last thing you want is to set your pool up with an incredible lighting system only to find out that it violates local codes and ordinances. Although some higher-level regulations on swimming pools and outdoor lighting provide a bit of direction, it's crucial that you always take the time to research your city or county's specific legislation regarding these types of lighting systems.
Looking for more great ideas for enhancing your backyard pool slide experience? Check our blog for regular updates on how to enjoy and care for your Paradise slide, or reach out to learn more about installing a brand-new fiberglass swimming pool slide today.