Top 3 Reasons to Love Your Pool Slide Instead of Going to a Water Park
Custom Home Pool Slide vs. Crowded Water Park – The Answer is Simple!
Pools Slides and Hot summer days mean it is time for a fun day at the pool! Whether that is at your own pool, a public pool or a water park is entirely up to you. Here at Paradise slides, we believe the best way to enjoy a pool day is to relax in your stunning backyard and enjoy your custom home pool slide.
By installing one of our exquisite fiberglass water slides, you can provide you and your family with the fun of a waterpark right from the comfort of your own home. Here are 3 top reasons why you should skip the water park and stay home.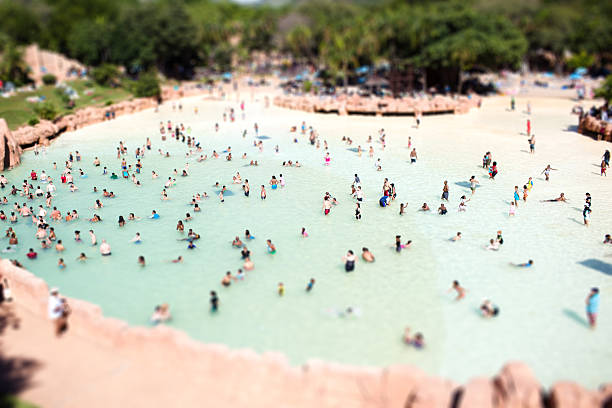 vs.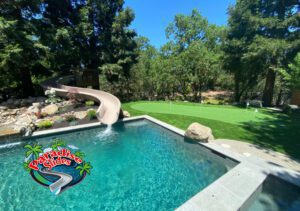 1.                Your Residential Water Slide Is Far Cleaner
Water parks are incredibly dirty. In fact, a study done by the CDC found that 58% of pool filters tested positive for E. Coli. For anyone who doesn't know, E. Coli is a bacteria that is commonly found in human stool.
As you swim around in the lazy river or get pummeled in the wave pool, just imagine all the germs, urine, feces, sweat, and spit floating around with you. The last thing you want is to accidentally take a big gulp of the bacteria-filled water.
With all the germs, why go to a water park when the alternative is to enjoy your residential water slide at home? With a fiberglass water slide, you can relax in your backyard oasis and enjoy the cleanliness of your own pool. You know exactly who has used it, when it has been cleaned, and how well it has been cleaned.
2.                Avoid The Crowds With a Residential Water Slide
If you have ever been to a water park, you know most of your time will be spent waiting in long lines. It is almost always completely packed with many large groups of people going to water parks. This means you will wait a long time to go down the water slide. These long wait times can feel even longer with a hot floor and no shoes.
By staying home and enjoying your stunning backyard, you can enjoy your own residential water slide without waiting in line for anyone else. This provides a more relaxing, comfortable experience for you and your family.
3.                Maximize the Fun With a Custom Home Pool Slide
Some people may consider water parks to be more exhilarating. This is because they have multiple slides and rides to try out. However, you can maximize your fun with a custom home pool slide by making it your dream water slide with Paradise Slides.
Customizing your slide means you can make it all different fun colors and even choose the length, height, and bends. You can even make it a faster slide depending on its dimensions. With a custom home pool slide, you can make the ultimate slide, so it is exactly how you like it.
You can even slide down your residential water slide as many times as you want since there isn't a line. You may even have more fun with your custom home pool slide since there aren't any lifeguards around to tell you when you can and can't ride.
Paradise Slides Inground Swimming Pool Slide
Create your backyard oasis now with a Paradise Slides inground swimming pool slide! You can pick from our many models of pool slides and customize them so you have the right color, shape, and length. Our residential water slides allow you to turn your pool into your dream at-home water park. Escape to your Backyard…
If you are interested in purchasing one of our water slides, you can give us a call at (706)865-4849. We can help you select the best custom home pool slide to fit your backyard. You can also get a better sense of what our pool slides look like by checking out our previous work on Facebook, Twitter, Instagram, or Pinterest.