Top 7 Residential Water slide Design Ideas
Top 7 Residential Water slide Design Ideas
There Is No Limit To Your Creativity!
Have you been dreaming about installing a backyard water slide to take your pool parties to the next level? It can be challenging to learn where to start, but the best part about custom pool slides is there is no limit to what you can do. And it all starts with an idea. If you can dream up a slide, we can build it. Here are the top seven backyard water slide designs that Paradise Slides has in homes around the country to give you some inspiration for your build!
Top 7 Coolest Backyard Pools With Slides
1. Who Needs a Water Park? Get All the Fun You Need With This Fiberglass Water Slide
This design features a winding slide the makes your pool feel like you are at the water park. Except you avoid the ticket prices! This 95-foot fiberglass water slide traverses and bends through the trees and makes for a scenic ride. It is one of our longer slide models. The two-story access stairs give this ride some height and speed too.
This design, installed in Texas, really shows just how far you can go with our slides. If you have the room for a monster backyard water slide, we can design and build it to fit your space like it seamlessly fits naturally through your backyard landscape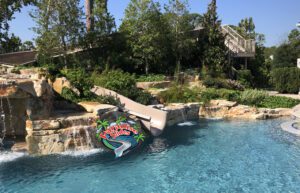 2. The Pirates Cove
Sometimes a custom pool slide is a perfect complement to your overall design. And this customer in Connecticut went all out with their custom pool slide! This Contractor designed the slide to travel down a rocky cove, and even added some pyrotechnics to take this design over the top to make a really cool project.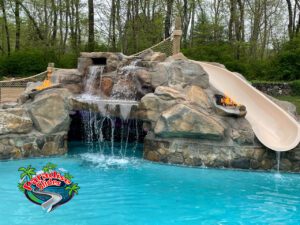 3. Elevate A Residential Water Slide With Water Fixtures
Sometimes you need a little extra pizzazz to bring a residential water slide to life, and that's exactly what this design does. This Contractor installed an archway that dumps water on the rider right before they fly into the pool. The arch gives a slide an extra feature that can make your custom pool slide one of a kind.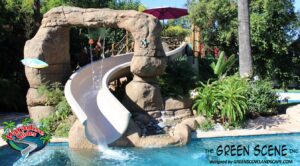 4. Simple But Effective Backyard Waterslide
Maybe you're not into all the flashy bells and whistles for your backyard water slide, and you're looking more for functionality than design. Then, this is the perfect residential water slide for you.
Why have one slide when you can have two? One slide is built for speed, and the other gives the classic twisty water slide ride. It's a simple and easy pool slide model than the rest and still makes for an enjoyable experience.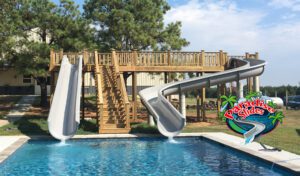 5. Add a Pool Slide Straight From The House
The custom water slide is usually at the forefront of every build, but this customer in California flipped the idea around. The coolest part of this design is that the entryway goes straight from the house's deck into the pool!
Concrete piers to get the height and angle just right and provide the safest support. No more walking downstairs and out to the pool. You can slide right from the second floor!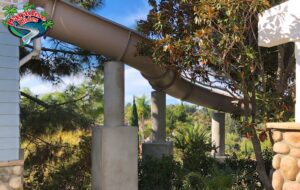 6. Build a Residential Water Slide Through The Landscape
Have you already constructed your pool and are wondering where you can fit a water slide? It's easier than you think to build custom pool slides into things like existing landscaped beds, just like this design here.
For example, this contractor installed this slide in Illinois using the natural hill in their backyard and perfectly fit the slide right through the mulched plant beds. Sometimes using the natural elements of your property is key to building a residential water slide. Using the slope of their backyard, this customer saved a little extra by not constructing a tall entry staircase.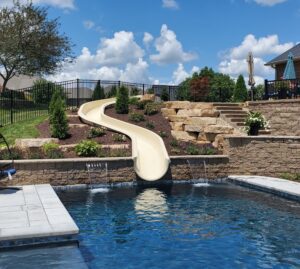 7. Let There Be Light!
It doesn't matter if it's day or night; you can enjoy this custom pool slide anytime!
While a residential water slide is usually centered around fun, it can also create an ambiance in your backyard design. Look at this project by a pool contractor in Tennessee. They used a simple slide idea that moves down a hill of rocks, but what brings this design to life is the lighting. It elevates the entire feel by putting lights around slide, in the plant beds, and even in the water.
Plus, if you plan to use your pool slide at night, lighting like this provides a safer experience for you to safely walk-up wet steps and slide down.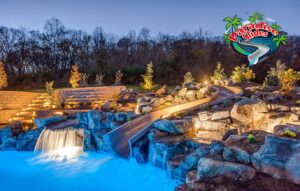 Do you want to see even more custom pool slide ideas? Check out our photo gallery of projects we have across the country to help inspire you before building your backyard water slide!